The Independent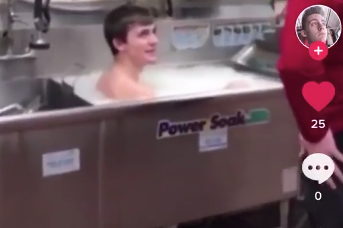 Multiple Wendy's employees have reportedly been fired after they filmed a man bathing in the restaurant's kitchen sink.
In the video, which was uploaded to TikTok, a shirtless man, believed to be an employee, sits in soapy water in the restaurant's industrial sink at the Greenville, Michigan, location.
"Wash yourself," a Wendy's employee can be heard telling the man, as he throws what appears to be a wash cloth at him. 
The man in the sink then responds: "It feels like a hot tub. I'm just enjoying life." 
The video was later shared on Facebook, where it has been viewed more than 157,000 times, with the caption: "So yeah I'm just gonna tell everyone right now DON'T GO TO THE GREENVILLE WENDY'S. 
"THIS IS DISGUSTING. Please share this."
The video prompted many people to express their disgust over the incident. 
"This needs to be reported to the local health department," one person wrote. 
Another commented: "So disgusting and definitely unsanitary."
A spokesperson for the Wendy's franchisee, Team Schostak, confirmed the incident had taken place in one of its restaurants to The Daily News. 
"We take it very, very seriously," Christian Camp, vice president of human resources for Team Schostak, told the outlet. "We have already taken the proper steps to make sure something like this never happens again.
"As soon as we learned of it, which was this morning, we quickly got into action and approached every person that was involved. We've been looking into the matter all day, trying to find out what happened because we want to make sure that we are safe for our employees, and obviously our guests, so we take this matter extremely seriously. We've taken the appropriate steps to make sure this doesn't happen again."
In a statement to TMZ, the restaurant's owner said all of the employees in the video had been "terminated immediately" and that the health department had not reported any violations during a visit to the restaurant following the incident. 
"This egregious behaviour is completely unacceptable and counter to our safety, training and operational standards," the franchise owner said. "Upon learning of this situation, all employees in the video were terminated immediately and the restaurant has been completely sanitised. The health department visited the restaurant today and no violations were reported."
The Independent has contacted Wendy's for comment. 
Chelsea Ritschel The Independent